We open more than just doors.
RFID & NFC 13,56 MHz HF Embedded Modules
Every application is different – We support you in selecting the right RFID & NFC Module with 13,56 Mhz for your application.
Our experts will be happy to advise you!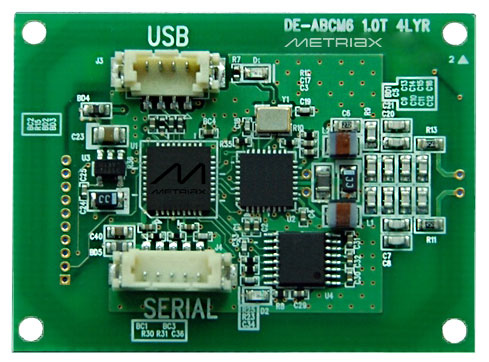 MDE-ABCM6: The RFID & NFC embedded antenna module for space-saving installation
Small, reliable, high performing. 
The MDE-ABCM6 RFID & NFC module with built-in antenna is a true allrounder with 13,56MHz.
It can be controlled via USB or a serial interface (RS-232) and convinces by simple commissioning as well as absolute reliability and stability in the application.
Due to the size of only 43.5 x 32 x 5 mm, it can be installed or retrofitted almost everywhere invisibly and space-saving. As a reader/writer module, it has full functionality for RFID & NFC, and payment systems can also be controlled via it.
SDK available free of charge. For NFC developers we provide a special SDK.
The MDE-ABCM6 RFID module is also available as HID version. Just hold a RFID card in front of the module and the ID or data from encrypted blocks will be transmitted like a keyboard input.
We will be happy to advise you what fits best to your application!
Features
Firmware Options
Interfaces
Data Sheets
Features
Dimensions: 43.5 mm x 32 mm x 5 mm
ISO 14443, ISO 18092 (NFC), MIFARE Classic®, MIFARE Ultralight®, MIFARE Plus®, MIFARE® DESFire®, NTAG®, FeliCa®
CE, RoHS & REACH compliant 
Firmware Options
Interfaces
Data Sheets
MDE-ABCM6: RFID & NFC modules with integrated antenna for space-saving installation and retrofitting

The MDE-ABCM6 is a compact 13.56 MHz RFID module with small dimensions of 43.5 mm x 32 mm x 5mm.
It is suitable for a wide range of applications. Typical use cases are:
Access control
Identification systems
Payment systems
Small and unobtrusive, it can also be used to retrofit RFID technology into existing systems.
Via its integrated antenna, the MDE-ABCM6 establishes contactless contact with ISO 14443 A/B and ISO 18092 (NFC) transponders. 
The module allows full read and write access to Mifare Classic®, Mifare Ultralight®, Mifare Plus®, Mifare® DESFire®, NTAG® and many more. 
The reading distance is usually 2 – 5 cm. 
NFC Peer to Peer (P2P) communication is also possible with a speed of up to 424 kbps.
The current status of the MDE-ABCM6 module is displayed via 2 LEDs. For the communication with the host 2 interfaces are available, which can be used alternatively. In addition, a 4-pin Molex socket for USB 2.0 (12 Mbps) and a 5-pin Molex socket for RS 232 connection (115200 bps) are available on the board. The communication protocol is PC/SC or a proprietary protocol.
Included is the free SDK (Software Development Kit) with Windows and Linux support. A complete documentation and the user programs "DualCard" and "NFC Manger" additionally facilitate the commissioning of the module and the programming.
With the help of the optional USB cable, the user can, almost in "Plug & Play" procedure, connect the module and test the functions. The monitor function in the DualCard software logs the data traffic between the host computer and the MDE-ABCM6 RFID module, which is very helpful for own software developments.
For the advanced user there is also a FDK (Firmware Development Kit) available to create own firmware.
Found everything? Our customer service will be happy to help!
We are looking forward to meeting you!